This is Update photos of Mount Bromo Eruption on Dec 24,2010 where is the eruption is Volcanic eruption with Volcanic Ash and Sands Material plumes from Tengger Caldera's Mount Bromo cone rose 400-800 m above the crater, some times more than 800 m and the eruption to east wind.
[picasaView album="MountBromoEruption2010″ instantView="yes"]


The ash damaged agricultural land, impacted trees and river valleys, and disrupted transportation infrastructure at Cemoro Lawang Village until Ngadisari Village. The Ash distant more than 20 km from Craters, some people using mask at Probolinggo city.
Mount Bromo is one of the most famous and most beautiful volcanoes in Indonesia, and one of active volcano in Java, where is on going eruption Mount Anak Krakatau, Mount Papandayan, Mount Slamet, Mount Merapi and Mount Batur in Bali.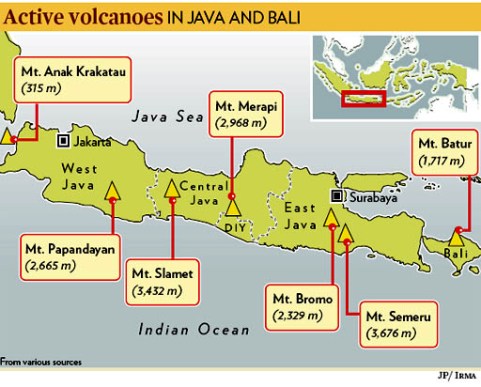 History of Mount Bromo Eruption
Volcanic activities at Mount Bromo in East Java began to subside On Tuesday 23 November 2010, 16.30, just one day after the Volcanology and Geological Disaster Mitigation Center put the volcano on alert status, the highest level, following increased activities several days earlier


and continue eruption, and on Dec 23, 2010 Mount Bromo try more bigger smoke than before. The Ash at Cemoro Lawang more than 20 cm and All hotel close this area are full of Ash also the Ash Damage Agriculture and impacted trees also road.
Mount Bromo (from Sanskrit / Old Javanese: Brahma, one of the main Hindu gods), the volcano is still active and most famous as a tourist attraction in East Java. As a tourist attraction, Mount Bromo become attractive because of its status as the volcano is still active.
Bromo has a height of 2392 meters above sea level is located in four regions, namely Probolinggo, Pasuruan, Lumajang, and Malang. Mount Bromo mesh body shape between valleys and canyons with the caldera or the sea of sand covering some 10 square kilometers.
Mount Bromo has a crater with a diameter of ± 800 feet (north-south) and ± 600 meters (east-west). While the danger area of a circle with a radius of 4 km from the central crater of Bromo.
During the 20th century, the mountain is famous as a tourist it erupted three times, with regular time intervals, namely 30 years. The biggest eruptions occurred in 1974, while the last eruption occurred in 2004.Image of Mount BromoPictures of Mount Bromo from NASA.


Bromo eruption history: 2010, 2004, 2001, 1995, 1984, 1983, 1980, 1972, 1956, 1955, 1950, 1948, 1040, 1939, 1935, 1930, 1929, 1928, 1922, 1921, 1915, 1916, 1910, 1909, 1907, 1908, 1907, 1906, 1907, 1896, 1893, 1890, 1888, 1886, 1887, 1886, 1885, 1886, 1885, 1877, 1867, 1868, 1866, 1865, 1865, 1860, 1859, 1858, 1858, 1857, 1856, 1844, 1843, 1843, 1835, 1830, 1830, 1829, 1825, 1822, 1823, 1820, 1815, 1804, 1775, and 1767.